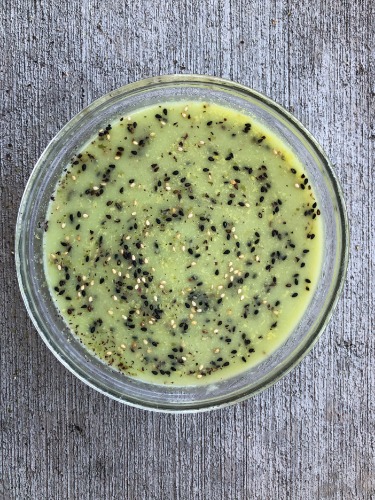 Celery Soup
Refreshing, mineral-rich, and admittedly more creamy in a high-speed blender. If you don't have one, halve the recipe and make in batches.
Prep Time: 3 Minutes
Cook Time: 2 Minutes
Ingredients:
Bunch of organic celery
4 cups of water
1 tablespoon of honey
1 tablespoon of oil
Juice of 1 lemon
1 avocado, halved
Cherry tomatoes, quartered
Optional Topping: Nutritional yeast
Optional Topping: Pepper
Optional Topping: Eden Shake Sesame and Sea Vegetable Seasoning
Instructions:
Put celery, water, honey, oil, lemon in high-speed blender.
Blend until smooth.
Add the meat of one-half avocado, and blend until creamy
Pour soup into bowls, and add tomato pieces
Top with your favorite ingredients. We like all the optional ingredients above, all at once.